Daniel BEHAR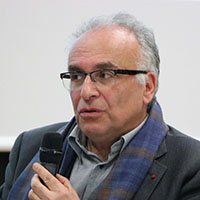 Daniel Behar's work focuses on issues of territorial strategies, spatial planning and governance in the context of metropolisation. He has been involved in the Grand Paris project in many ways since the international consultation of 2009, and has worked on regional planning (Hauts de France, Occitanie, etc.) as well as on metropolitan projects (Marseille, etc.) and local strategies, for example in the Basque Country, for the past 20 years. His recent work focuses on territorial mutations, territorial development strategies and public action instruments.
- BEHAR Daniel, CZERTOK Sacha & DESJARDINS Xavier (2021). Faire région, faire France : quand la région planifie, Boulogne Billancourt, Berger-Levrault.
- BEHAR Daniel & DELPIROU Aurélien (2021). Après la décentralisation : 15 propositions pour refonder l'action publique territoriale, Paris, Think Tank Terra Nova.
- BEHAR Daniel & DELPIROU Aurélien (dir.) (2020). Atlas du Grand Paris, Paris, Editions Autrement.