Educational Innovations
The educational innovations developed by the Paris School of Urban Planning aim at encouraging transversality and transdisciplinarity, along with a strong professional grounding.
Professional Situations Workshops
In M1, the urban diagnostic workshop is designed to implement the tools and methods taught during the first semester. It consists in carrying out diagnostic studies of territories, in response to orders from EUP partner institutions.
In M2, the workshop consists in responding to an effective order made by an organisation (territorial collectivity [collectivité territoriale], developer, study organisation, association…). It leads to an analysis and diagnostic work, and then recommendations and suggestions.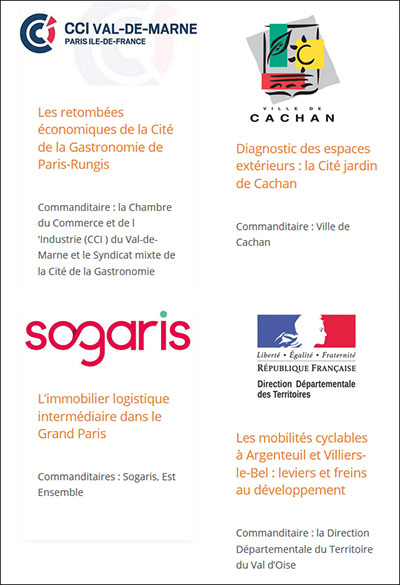 You can access and browse reports (4 pages, pdf, French), which expose the different past workshops. Due to copyrights, the full syntheses (70 pages and above) are not available for open access.
Browse reports
Common Activities and Transdisciplinarity
Every year, Master 2 students participate in a two-weeks program of common activities aiming to acquire professional skills that can go beyond the urban planning area. Role-playing exercises in which each student becomes a stakeholder of the urban planning world, poetic and descriptive writing about locations, night-time tours to grasp the conception of lighting, conception of a walking guide around a Greater Paris area train station… So many activities to allow students to embrace transversal approaches.